UPDATE! Governor Brown has signed the bill into law, Thursday, July 14th!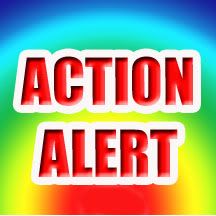 The history of LGBT people being taught in California's public schools is currently in the hands of our Governor. The FAIR (Fair, Accurate, Inclusive, and Respectful) Education Act (senate bill 48). Gov. Brown has the option to pass or veto this and he is our last stop before this becomes a state mandate. This act has been brought to action by Senator Mark Leno, Equality California, Gay-Straight Alliance Network, and NCLR.
Passing the FAIR Education Act will ensure that our long and rich LGBT history will no longer be overlooked, the contributions of our strong and fearless leaders will no longer be in vain, and the youth of our country will be all the wiser. This act will make LGBT history a regular part of history and social science curriculum.
Also, if passed California will be the first in the country to mandate such an important part of history in schools!! We need to start obtaining bragging rights somewhere, right?
As expected anti-LGBT organizations are pushing hard to veto this bill. They are voicing their opinions loud and clear.
This is where you come in!!
We need you to call Gov. Brown and let him know we want him to sign the FAIR Education ACT. (SB48) Gov. Brown has 5 days to sign the bill and we need to be voicing our wants just as strongly as our opponents are.
Two ways to contact Gov. Brown:
Automated phone system:
916.445.2841 (If lines are busy try again)
Press 1 for English or 2 for Spanish.
Then Select 2 to voice your opinion on a piece of legislation
If you are calling on senate bill 48 press 1
If you are calling in support of senate Bill 48 press 1
Email:
Submit the following letter to Gov. Jerry Brown
http://www.eqca.org/siteapps/advocacy/ActionItem.aspx?c=kuLRJ9MRKrH&b=4025663&aid=16257
This is important!! Please take action!! Spread the word!!